Making a new investment for your office can be a tricky decision, especially when it comes to finding a machine that is heavily relied on and used daily.
You'll want to take several different factors into consideration to get the best printer for your business' needs and usage. From inkjets to laser printers, there's a lot to consider when buying a new device for your office and the choice can be overwhelming!
Check out our blog post to check out our range of the best Epson printers for your business:
What's the best Epson printer for large scale printing?
If your business has a need to print larger A3-sized documents, the WF-7610 model is a fantastic option. This machine has the benefit of a front-loading tray to facilitate for larger format printing, as well as a 10.9cm touchscreen display and number pad to allow for fax dialling.
This Epson printer makes business printing simple as it permits a variety of connectivity options, making it compatible with many devices. The WF-7610 printer features a USB socket to connect devices through a USB cable, along with the option to use up to two additional memory stick and SD cards.
The model also has the additional benefit of printing speeds of up to 18ppm for a black and white document on A4 printer, which is a great speed for an inkjet machine.
What's the best eco-friendly Epson model for businesses?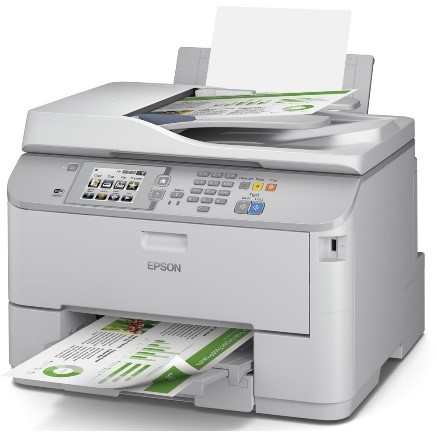 If you're looking for an eco-friendly Epson printer, the WF-5620 will allow you to rest assured knowing that both your printing costs and energy consumption can be reduced by as much as 50%!
The low running costs that this machine offers make it a great business printer as you'll receive the benefits of cheaper Epson printer ink and consumables to reduce the cost of your printing habits.
The low power consumption combined high-performance and quality output make it a fantastic option for any financially-concerned businesses.
The WF-5620 model has automatic double-sided printing and can complete many duties with your documents, including faxing, scanning and copying. This multifunction Epson printer can save time in and increase productivity, as well as boost the efficiency of your office.
The best Epson printer for saving space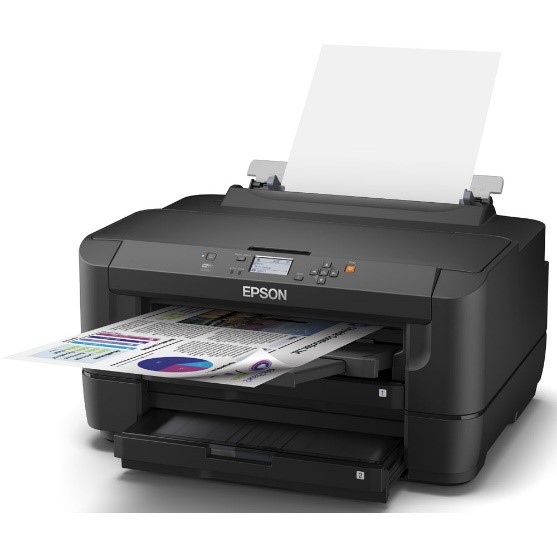 For smaller offices with slightly less requirement for an expensive model, the WF-7110 is an option that should be considered. It is able to produce documents with a printing speed of 18ppm and has a front-loading paper tray with a capacity to hold up to 250 sheets of paper.
This wireless printer allows printing jobs to be completed without being physically connected to the machine, making increased productivity and efficiency easier to achieve.
Whilst this cost-friendly Epson option is fantastic for smaller businesses, it doesn't compromise on quality! This printer is powered by PrecisionCore; a new printing technology that can generate up to 40 million precise dots per second and produce documents with great accuracy and quality.
The best high capacity Epson model for businesses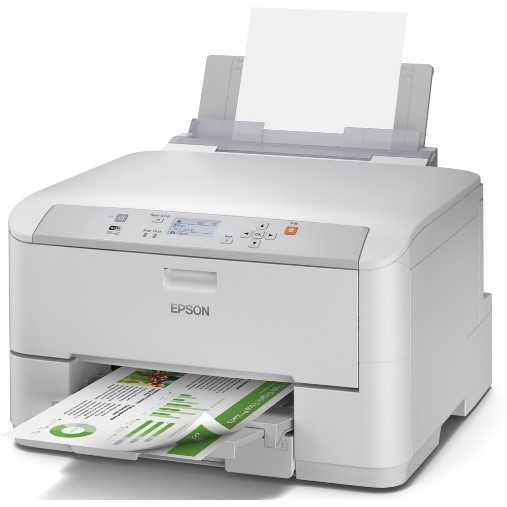 When it comes to finding an inkjet printer that doesn't consume masses of power, the WF-5110 uses specialist heat technology that offers up to 80% less power consumption than comparative laser machines.
The WF-5110 model also allows you to purchase Epson printer cartridges in bulk as the machine has a capacity of holding up to 4,000 pages. The printer is easy to set up so it's perfect for those with limited time or knowledge when it comes to setting up a new printing system.
Despite the fast printing speeds on offer, this Epson printer has been praised for its quiet printing noise, making it ideal for offices where you don't want to be disturbed whilst making important phone calls.
As you can see, there are several Epson printers that make fantastic machines of office environments, no matter how high your output or usage is.
Epson Printers Model
Epson L1300 L Series Ink Tank Printers A3 Ink Tank PrinterK
Epson WorkForce Pro WF-3720 All-in-One PrinterK
Epson L1455 A3 Wi-Fi Duplex All-in-One Ink Tank Pri
EPSON PRINTERS AND SCANNERS
Epson EcoTank L3060 3-in-1 Ink Tank System PrinterK
EPSON PRINTERS AND SCANNERS
Epson LQ-690 Dot Matrix PrinterK
Epson L850 Multifunctional All in One Printer
Epson L805 Colour Inkjet Printer,Wifi Connectivity, Black
Epson L382 – InkJet Color Printer & Scanner!
Epson LabelWorks LW-400VP (with Carry-Case & Protective Cover) Thermal Label PrinterK
If you require assistance on narrowing down the options tailored towards your business needs, we'd love to help. Contact uson  +254711576909 and speak to one of our printing experts today.